The next leader has it all to do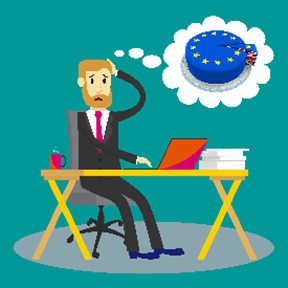 The Index falls heavily as industry goes into a wait loop
After five months of inch-by-inch climbs, the Accountagility Index (AAX) fell 23 basis points to the below par score of 4.87. Last month it was 5.10 after a series of increases from the December low of 4.79. The Index records UK political and economic health in a score out of ten. Any score below 5.00 is negative.
After a lull, there is a storm of topics to talk about this month. Theresa fell on her sword, and now there is a leadership contest for her replacement that is so crowded that the candidates couldn't fit into ten red telephone boxes. The contest will come alive this month with Conservative MPs narrowing the field down to just two candidates; then the party members vote for their favourite. The new leader should be announced in August. This highly politicised electioneering phase is unlikely to be good for the Brexometer, since it prolongs uncertainty which has held the Index back since the Brexit vote in June 2016. The contest has been given extra spark because of the poor showing of the main two Parties in the Local and European elections, and the rapid rise of Nigel Farage's Brexit Party. It was only formed on 12th April, but was the largest single Party in the European elections.
So what caused the large fall this month?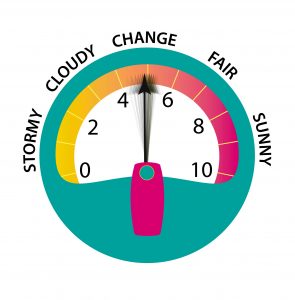 The ongoing political uncertainty did have an impact, mainly because several of the leadership candidates are prepared to countenance a No Deal Brexit, and there is now a period of minimal leadership of the country. But economic factors were the key in dragging the Index southbound. Finally the economics has caught up with the negative political scene, and a nasty combination of increasing inflation, dropping Pound, sliding markets and a collapse in sentiment, are to blame for the downwards trajectory.
In the Construction sector, there was a sharp decline in output, especially in civil engineering, which has seen the longest period of decline since 2013. Residential work expanded but at a subdued pace, so even house building is being affected. Manufacturing saw the first negative score since the Brexit Referendum. There is undeniable evidence that the inventories were built up in Q1, ahead of a potential disorganised exit, and that now there is no urgent need to refresh orders. The weakness has been confined to intermediate and investment goods, supporting the view that stockpiling occurred in Q1. One shaft of light though…. There is a 42% positive sentiment (49% positive versus 7% negative) that Manufacturing output will be higher in 12 months' time. The industry clearly expects Brexit uncertainty to be resolved by then. Good luck.
What else has been happening?
Some other positive points. The state visit of Donald Trump to London has highlighted the opportunity of a US/UK trade deal, which many are touting as an immediate response to losing full access to European markets. GDP has been rising a little faster than expected. The unemployment rate continues to fall, this time it is 3.8%. There has been a small decrease in the debt ratio. For economics junkies the Brexometer score for the economy only, is 5.60 this month, down 29 basis points from its May level of 5.89. The all-time peak was 5.93 in April.
What happens next?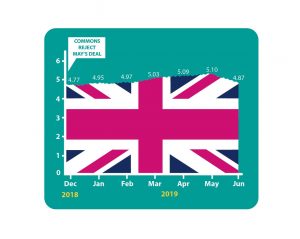 We will be peppered with news about the leadership race. Expect candidates to be throwing all kinds of ammunition at each other. Nigel Farage has been on the receiving end of a milkshake already, but the contest hasn't warmed up properly yet. By next time we will know the two short-listed candidates. Can it possibly be the big two of Boris Johnson and his nemesis Michael Gove, who so famously stabbed him in the back in the 2016 contest? In the meantime, how will industry react as the vacuum of leadership continues? Can the UK economy hold up? How will the Index react?
Keep following the Brexometer to find out.
Footnote
Due to holidays the Brexometer is a day or two earlier than usual this month. As a result the sentiment score for the UK Services sector is not yet available. The Index will be featuring a historical adjustment next month, if that score has moved during May.
This year we have set up a competition open to everyone, to predict each month's score. May's winner is Daniel Page, who came closest. He has won the special prize, a Brexometer tenner with the serial number starting AA, one of the first new plastic ten pound notes ever printed. See image below. Next month would you like to join in? The Index could be heading anywhere, so it will be an open field. There is another Brexometer tenner to win, together with a framed certificate to show off your awesome punditry to your colleagues and friends. Just reply to this email with your own prediction (a score out of ten to two decimal places), and a special keepsake could be yours… or you could just spend it!