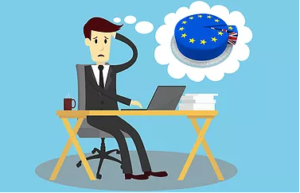 After three months of positive momentum, the UK has gone over the edge of the crest and the Accountagility Index (AAX) has dropped by 19 basis points to 5.19 this month, after hitting a post-Referendum high of 5.38 in January. The Index records UK political and economic health in a score out of ten, and any score above 5.00 is positive.
February Brexometer Reading
The Index was driven lower by the jitters on Wall Street, caused by expectations of higher US inflation and interest rates later this year. Whilst this could be a blip, several other factors (sentiment, growth, inflation and debt) reinforced the first downward movement of the Index since October.
Yet again the feeling of being on a giant rollercoaster is upon us. Two months of dip, then three months of climb, and now another dip. Whatever the trajectory, we are in a period of chronic uncertainty, a landscape of Brexit flux.
The Brexometer has been created to provide a balanced view of the state of UK plc. This month the positive factors are the optimism in small and medium firms across the Board, continuing hiring decisions and the return to growth of both commercial building and civil engineering activity.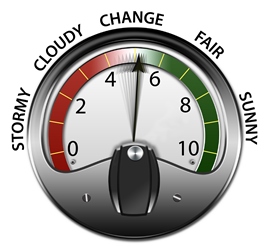 The Accountagility Index Rating for February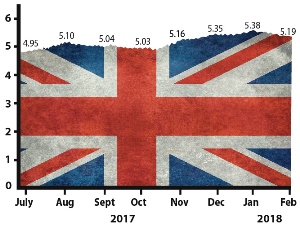 And yet, many of us are asking "What does this period of flux mean for my business?" Many companies are spending time on self-assessment and reflection, leading to sharper planning, which according to Adam Marshall, the Director General of the British Chambers of Commerce, in an article this week, "could unleash pent-up investment" especially around technology and training. Can this chronic change be the catalyst for greater scenario planning and improved performance?
We will find out the answers to this and many other vital questions over the course of this year, which we believe will represent the road to Operational Excellence. In the next few weeks, will the Brexit talks accelerate? Will we see more benign market movements and an easing off of inflationary pressures? Will the next part of the ride be up or down?
Keep following the Brexometer to find out.
What makes up the Accountagility Index (AAX)?
The data used to calculate the Accountagility Index are based on eleven key factors, all derived from a diverse range of independent and credible sources​
UK economic growth – A key building block of UK prosperity
Markets – Reflects the health of larger British companies
UK inflation – An important measure which needs to be carefully monitored
Sterling strength – Affects imports, exports and confidence
UK employment – Impacts so many aspects of UK economic activity
UK Debt ratio – Tracks the UK's progress against long term balancing of the books
FDI (Foreign Direct Investment) – Illustrates the practical confidence levels from outside the UK
Sentiment – Can be often the most important factor in how the economy is perceived
Political stability/environment – A must include measure which can have instant impact on the big picture
Progress on Brexit negotiations – Casts a very long shadow over all things
Progress of International trade talks – A vital indicator of the UK's international positioning