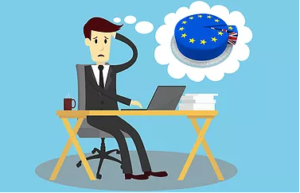 Brexit negotiations entered into their final phase last month, with the sides as far apart as ever. The uncertainty has had a significant impact on the Index this month, causing a fall of 20 basis points to 5.23. Last month's reading was a post-referendum peak of 5.43. Nonetheless, the August score of the Accountagility Index (AAX) is still ahead of the pre-Brexit benchmark of 5.18. The Index records UK political and economic health in a score out of ten, and any score above 5.00 is positive.
August Brexometer Reading
The most substantial contributor to the fall was the impact of the lack of clarity and common purpose in the Brexit negotiations, with EU Chief Negotiator Michel Barnier indicating the EU's rejection of key components of the UK's most recent proposal. This stand-off was certainly not helped by the radio silence coming out of the informal talks between Theresa May and Emmanuel Macron, implying that France is entirely supportive of the EU's tough stance. The recent warning by the normally equable Mark Carney, Governor of the Bank of England, has also sounded warning bells about a no-deal exit. The political factors contributed to almost half of the drop this month.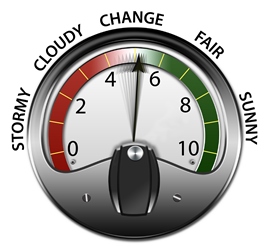 The Accountagility Index Rating for August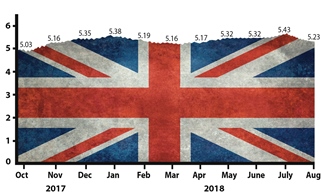 There were other factors too. Inflation remains stubbornly high and there are ongoing cost pressures throughout the economy. Growth is a worry, but Q2 figures may be more encouraging. There are signs of a run on the pound in this climate, when holidays cause trading volumes to be low, and this would have further negative effects on medium-term inflation. Sentiment is lower this month, although the construction sector is racing ahead with the fastest rise since 2015. House building is the star, which is good news for UK plc.
Next month, Parliament is back from its summer recess but the news during August will be full of the Brexit negotiations. How will the Index react? Can it recover during the silly season, or will it all continue to drop?
Keep following the Brexometer to find out.
What makes up the Accountagility Index (AAX)?
The data used to calculate the Accountagility Index are based on eleven key factors, all derived from a diverse range of independent and credible sources​
UK economic growth – A key building block of UK prosperity
Markets – Reflects the health of larger British companies
UK inflation – An important measure which needs to be carefully monitored
Sterling strength – Affects imports, exports and confidence
UK employment – Impacts so many aspects of UK economic activity
UK Debt ratio – Tracks the UK's progress against long term balancing of the books
FDI (Foreign Direct Investment) – Illustrates the practical confidence levels from outside the UK
Sentiment – Can be often the most important factor in how the economy is perceived
Political stability/environment – A must include measure which can have instant impact on the big picture
Progress on Brexit negotiations – Casts a very long shadow over all things
Progress of International trade talks – A vital indicator of the UK's international positioning