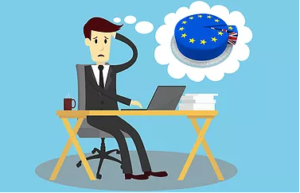 The UK stood still for a second successive month in April, as the snow and ice of March reduced economic activity and depressed business confidence.
The April reading of the Accountagility Index (AAX) saw a minuscule rise of one basis point to 5.17, from 5.16 in March. The Index records UK political and economic health in a score out of ten, and any score above 5.00 is positive.
April Brexometer Reading
The key mover and shaker in March was the dramatic reduction in sentiment in the Services and Construction sectors. According to commentators in the important Service industry, the UK simply iced up. The slowdown in business activity was the sharpest for 18 months. In Construction, civil engineering work declined at the fastest pace for five years. This negative movement was offset by the fall in inflation, which is finally dropping out of the system.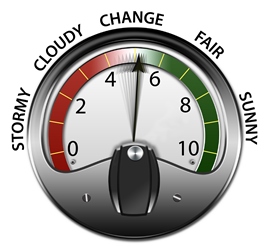 The Accountagility Index Rating for April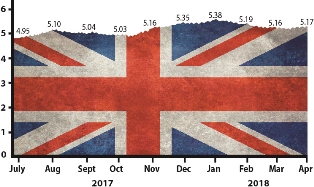 This month we are focussing on the good news around employment, which improved this month again, following steady falls since the Brexit vote. At only 4.3%, it represents the lowest unemployment rate since 1975, two generations ago. The economy is heading towards effective full employment and compares favourably with the EU whose average rate is 7.3%. It is not very far from Germany's healthy 3.6%. Imagine life in other EU countries, though, where unemployment is having an impact on social cohesion; 6.1% at our neighbours Ireland, 9% in France, 11.1% in Italy and a crushing 20.9% in Greece. Let us bask in this performance – if only for this month. However, whatever view you may have of Brexit, there is evidence of a demand for more workers from outside Britain over the coming years, based on this trend.
Despite the sentiment worries, there are silver linings to provide warmth. The Manufacturing sector held steady last month, and even in Construction, future expectations and job creation are increasing. So there are some reasons to be cheerful.
Next month, will a delayed spring finally burst forth, seeding an economic bloom? Will there be no more icing on the pavement, but more icing on our cake?
Keep following the Brexometer to find out.
What makes up the Accountagility Index (AAX)?
The data used to calculate the Accountagility Index are based on eleven key factors, all derived from a diverse range of independent and credible sources​
UK economic growth – A key building block of UK prosperity
Markets – Reflects the health of larger British companies
UK inflation – An important measure which needs to be carefully monitored
Sterling strength – Affects imports, exports and confidence
UK employment – Impacts so many aspects of UK economic activity
UK Debt ratio – Tracks the UK's progress against long term balancing of the books
FDI (Foreign Direct Investment) – Illustrates the practical confidence levels from outside the UK
Sentiment – Can be often the most important factor in how the economy is perceived
Political stability/environment – A must include measure which can have instant impact on the big picture
Progress on Brexit negotiations – Casts a very long shadow over all things
Progress of International trade talks – A vital indicator of the UK's international positioning