The positive synergy that comes from unifying the trinity of People, Processes and Technology can transform morale and effectiveness of the finance function. Here we take a look at advanced technologies such as Artificial Intelligence (AI), versus the importance of Motivating the Finance Team. Some say that AI technologies will see finance teams reduced in size and significance in the future. Is this true? And if so, what should a CFO's top priority be?
There's much recent talk around AI, RPA, robotics, and machine learning. However, these discussion points are not new – they've actually been around in one form or another for decades.
Automation technologies continue to develop with the aim of eliminating manual processes. But back in the real world, the daily operations carried out within the typical finance function are often so convoluted, the goal (for now at least) of reducing manual intervention is a huge win. And the technology that can do this is already here.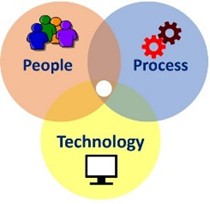 The jury is out on what shape AI in finance will take. Or indeed, when CFO's will be confident enough to trial solutions that claim to eradicate manual processes completely.
Should the focus therefore be on utilising current technologies that can streamline the immense volumes of data processing required in the finance function, whilst balancing the best attributes of the individuals within the finance talent pool?
Under this model, transactional roles in finance teams will become less common, allowing CFO's to upskill their team to higher value and more rewarding tasks. Error-free automated data entry using validation processes already exists; and teams can produce automated forecasts using tools with advanced rule configuration. Employees empowered to utilise collaboration facilities facilitate resolution of issues and anomalies, and efficient handling of queries. Technologies exist today that are the starting blocks of Automated Analytics.
Some CFO's are already succeeding in combining great Technology with best in class Processes. The trick is to achieve this whilst developing a team of strategic thinkers with cross functional knowledge. This is the formula to move along the road to operational excellence and to realise a world class finance function.
Many believe managing a great team is simply down to competing for the best talent and retaining it. However the ultimate goal must be – how do you nurture a team, keep them onside and committed? Employee morale, happiness and motivation play a crucial part in this aim.
Strong leadership plays a fundamental role and commands the respect of the whole finance function from the board, empowering finance to play a key role in business strategy.